Accountancy
Our graduates consistently score higher than the national average on the CPA exam.
Whether a Fortune 500 company or a local non-profit, success requires experienced financial leadership. Learn the language of business with skills like auditing, tax preparation and budgeting.
Learn More About Our Programs
Accountancy (B.Acc.)
As one of two programs, the Bachelor of Accountancy is designed for students interested in becoming Certified Public Accountants (CPA). The CPA is a national designation that requires passage of a qualifying examination.
Accountancy (M.Acc.)
UND's M.Acc. program is designed to qualify and prepare students for the CPA examination while expanding their professional skills. Our program is flexible, and prepares students from all educational and professional backgrounds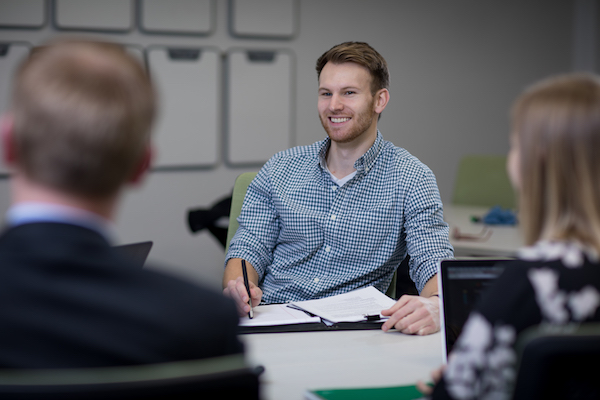 Information Systems (B.B.A.)
Information Systems graduates attain careers as network administrators, database developers, information systems analysts, software programmers, technology consultants, and a wide variety of emerging positions within the information systems and technology field.
Why UND Accountancy?
Our graduates

become auditors, controllers, professional accountants, and partners at a the FDIC, Hormel and Microsoft.

You'll gain experience through internships with the Big Four, national and regional public accounting firms.
Accounting scholarships are offered through the department. Contact

Dee Ann Ellingson at at

deeann.ellingson@UND.edu

for more information.
Live in UND Housing with fellow accounting majors in our Business Living & Learning Community (LLC).
The mission of the Department of Accountancy is to prepare individuals for professional careers in accounting and business.
We see a future where:
UND's Accountancy program is recognized by employers and the general public as the best in the region. When people in the region think of accounting, they will think of UND.
The Accountancy faculty are the leaders in the College of Business & Public Administration.
High quality teaching, scholarship and professional and public services
Relevance and innovation in curriculum, instructional methods, scholarship and professional and public services
Good relationships with our alumni and recruiters
Interaction with the profession and community
High standards of professional and ethical conduct
A climate that fosters continuous improvement
In the last 27 years, Department of Accountancy graduates have earned the prestigious Elijah Watts Sells Award nine times. This award was creates in 1923 and annually recognizes the top 10 candidates in the nation who earn the highest cumulative scores on the CPA exam. Each year, between 75,000 and 100,000 individuals sit for the CPA exam. Finishing in the top 10 is truly an outstanding achievement and indicates the high-quality alumni produced by our undergraduate Accountancy Program.
The award is names after Elijah Watts Sells, one of New York's first CPAs and one for the primarily focuses behind the establishment of what is now the American Institute of CPAs. The following UND graduates have received this award.
| Name | Test Taken | Hometown |
| --- | --- | --- |
| Chelsey Enderle | Fall 2014 | Grand Forks, ND |
| Chris Rohrich | Spring 2004 | Fargo South, ND |
| Patricia Kalil Margarit | Fall 1993 | Williston, ND |
| Melissa Derrig | Fall 1993 | Fargo North, ND |
| Kory Schimke | Fall 1990 | Harvey, ND |
| Jeff Kersten | Spring 1990 | Newburg, ND |
| John Schell | Spring 1989 | Minot, ND |
| Brenda Zent | Spring 1987 | Mott, ND |
| Dave Eberly | Spring 1986 | Minot, ND |
| Steve Opdahl | Spring 1986 | Fargo South, ND |