The MAcc Takes Flight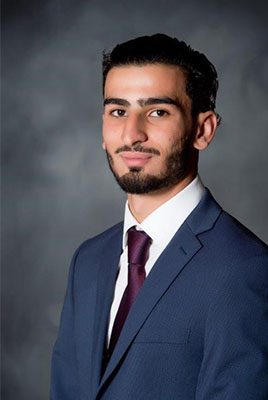 As an international student from Libya, Sofian Tegazi first arrived at UND on a scholarship to pursue aviation management. But after taking Accounting 200 with Lawrence Lawson-Body his career goals started to change.
Prior to the class, Tegazi had been told by other students that the course was very difficult. Tegazi got into the class and aced it. That is when Mrs. Lawson-Body told him he should really think about a career in accounting. "After visiting with Mrs. Lawson-Body and learning about the future opportunities I decided to switch to accounting," says Tegazi. "She really influenced me, and gave me the advice I needed."
For the year and a half that followed, Tegazi did his research. He spoke with Dr. Mathew Notbohm, Associate Professor of Accountancy and Master of Accountancy (MAcc) Program Director, and Graduate Program Advisor Kate Menzies, to find out about the opportunities available in the combined MAcc program and the Accelerated Bachelors/Masters of Accountancy program. He learned that he could gain the 150 credits he needed to sit for the CPA exam and leave UND with a Master's Degree in Accountancy with just one year after completing his Bachelor of Accountancy requirements. "I looked at it from the perspective as an international student, that working in a private or public sector, a master's degree from the U.S. will give me an edge and stand out in the crowd," says Tegazi.
"A Master Degree in Accountancy is becoming the national standard in this profession," says Dr. Matthew Notbohm.
Tegazi also recognized that by pursuing the Accelerated Bachelor/Master of Accountancy program many of the courses in the undergrad/graduate program were similar so he would only have to take them once and save time. Another aspect of the program that was intriguing to Tegazi was the concentration options, specifically in data analytics. "Every company I talk to wants people who know about data analytics," says Tegazi.
"The UND Master of Accountancy is designed to bring a broad set of skills beyond just traditional accounting knowledge," says Notbohm. Notbohm also emphasized that the courses in the MAcc program are designed to prepare students to pass the CPA exam.
While on campus Tegazi is also engaged in numerous leadership opportunities by currently serving as the chapter treasurer for Beta Alpha Psi and the Vice President of Block Chain UND. "Block chain is a technology that will change everything," says Tegazi. As part of Block Chain UND, students learn about the technology of block chain and how to use it in practice. This student organization provides opportunities to engage with guest speakers and to participate in blockchain competitions.
After graduation the sky's the limit for Tegazi. "I would like to work in the field of accounting for a few years, with the Big 4," says Tegazi. "My long term goal is to own my own business, I grew up with a very entrepreneurial mindset."
Tegazi had the opportunity to travel and live in many countries. He is excited to see where life will take him and adapt to life changes. He is fascinated by business and finds that business has no boundaries so he will be equipped with the tools to take flight wherever his career my lead him after the completion of the MAcc program.
"The MAcc Program is a great opportunity for students to excel or learn about things trending down the road, especially with data analytics," says Tegazi. "UND is one of the best schools when it comes to accounting and these new opportunities will continue to keep us on top."