Alumni Spotlight Jonathan Warrey
Rising through the ranks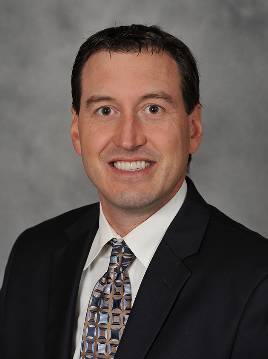 Like most 19-year olds, Jonathan Warrey had no idea what he wanted to do when he grew up. While first starting out at the University of North Dakota (UND), Warrey was an accounting major. It wasn't until he met Dr. Dennis Elbert that his collegiate trajectory changed.
"Dr. Elbert, who was the chair of the marketing department at the time, convinced me to major in marketing instead of accounting," says Warrey, "and I said, 'if I do that, will you help me land a job?' And he goes, 'yes, I will.'"
Little did Warrey know, Dr. Elbert was a man of his word.
Homecoming of Warrey's senior year, Dr. Elbert introduced Warrey to the founder of Marco, a then 18-million-dollar company that specialized in business IT services and copier/printer solutions. And what a life-changing introduction it was.
"I got my job at Marco upon graduation (1996) and I've been there ever since," says Warrey.
Warrey started out at Marco in St. Cloud, Minn. as a sales representative and worked his way up through the sales ranks. Twenty-three years later, he serves as COO of the now 400-million-dollar Fargo-based company.
"Favorite part of my job? Hitting goals. Satisfying customers. Staying relevant to them as their business tech provider. Watching people get better at their jobs. Even myself, I was so green when I started, and I got a ton of help from people. I'll never forget the people who helped me when I started. Now, it's our duty in leadership to create a culture that allows people to get better," says Warrey.
Not only does Warrey serve as a leader at Marco, it's the quality he holds in the highest of regards.
"A good leader inspires you to perform," says Warrey. "You don't want to let them down because they're also doing the work, they're doing their part, getting their hands dirty. They're fixing problems that aren't their fault. They're part of the solution, not part of the problem."
He says good leadership skills are developed both inside and outside of the classroom.
"The world is run by those who show up and do the work," says Warrey, "whether that's to class or to an outside job."
For Warrey, that work started at the UND College of Business & Public Administration Department of Marketing. He says his best piece of advice for current UND students to harness leadership skills is to be a leader in something you enjoy or are interested in.
"Make an impact, make sure you accomplish something, make something better. Then take that same approach to whatever you do in your career," says Warrey.
Just like Warrey did in his transition from the UND Department of Marketing to Marco.
"If you're on my team I'm going to be loyal to you, I'm going to help you, and I hope you don't want to let me down because I want to hit the goals," says Warrey.
Words of a true leader in action.