Student Spotlight: Michelle Nguyen
Michelle Nguyen
Major:

Political Science

Minors:

International Relations, Economics

Activities:

Pre-law society (founding father), Alpha Kappa Psi (VP of Membership), 1 st Generation Student Club, FCA, Hockey Cheerleader, participates in the Mentor Program, works for the Law School in Computer Services

Fun Fact:

My parents are my heroes.
When Michelle Nguyen started school, she didn't know any English. Nguyen's first language was Vietnamese, which she learned from her parents, who are both from Vietnam. Michelle's first friend in school didn't speak any English either. He spoke Russian. But, one way or another, they became best friends. Nguyen learned English in school in the English Second Language (ESL) program.
The University of North Dakota wasn't Nguyen's first school choice or really even a school on her list. Nguyen ended up at UND, because of the affordable education that is offered.
After coming here, UND became her dream school and noted that she wouldn't go back and change anything even if she could. Nguyen is part of many organizations on campus and is on the hockey cheer team as well.
"I get to study economics and political science and nerd out on that and business stuff, but then I also get to be a figure skater. So I get to live my athletic dream and my educational dream at the same time and it's the best of both worlds and I wouldn't trade it for anything," said Nguyen with a huge smile.
One of Nguyen's favorite parts about UND, besides the people are attending events put on by the Nistler CoBPA. This year, she enjoyed the Eye of the Hawk lecture series and the Korus Distinguished Lectureship Series, which were both focused on economic topics. Nguyen said that these two events really got her excited about what she had been learning in econ and swayed her towards a job in the field.
"I have never been able to apply myself so well to something and understand it so well until this year, and that's why I'm like oh my gosh, I want to do econ," explained Nguyen.
A Big Dream
Young Nguyen grew up watching the news on television. She watched news programs that spoke to topics such as economics, forecasting, and politics.
While watching the news, Nguyen acquired a fascination for the London School of Economics (LSE). When Nguyen got to high school, she was handed an article to read one day that was from LSE. Then, Nguyen came to UND and was delighted when she was informed that studying abroad at the London School of Economics was an option.
Nguyen has been selected to attend the London School of Economics' program for the second year in a row and is waiting to see if her dream of attending will come true this summer. The expenses of the program are the biggest barrier for Nguyen who has applied for multiple scholarships and has also been working with UND to see what her financial options are.
Overwhelming Support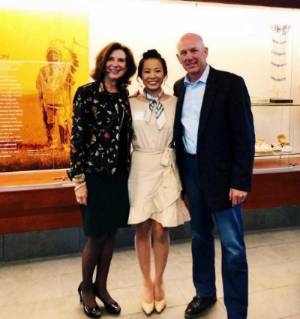 Nguyen explained how many people have supported her and her dreams. Her number one fans are her parents and she is incredibly grateful for everything that they do.
"The main people that I want to impress and make proud are my parents, because they have sacrificed so much, so many family dinners. they leave every day at 7 and come back at 11 o'clock for me to be in school," said Nguyen, who aims to make them proud.
Nguyen also has a large support system at UND that consists of her friends, coworkers, peers, and UND alumni. Two alumni that Nguyen has become particularly close with are Linda Pancratz and Tim O'Keefe, who like to joke that Nguyen is like their daughter.
Kids Like Me
Nguyen knows first-hand how difficult it is to want an opportunity so badly, but not be able to afford it. She has applied for many scholarships, including The Scholarship America Dream Award, which she was recently awarded. The award itself looks for students who are in situations that require financial need.
"It highlights students who aren't in the financial situation to be in school, but have the desire to dream of an education. Also, students that are sometimes 1st generation students, and/or students that are minority students like myself," explained Nguyen.
Nguyen would love to help kids like her receive an education someday. "I want to be in charge of an organization that's able to give kids the opportunity of education," said Nguyen.
She enjoys the moments when she's tutoring and students finally understand the concept.
"If I can help someone else benefit in a way that they couldn't before that's fulfilling to me. That makes me feel good about myself. Like when I'm tutoring someone and they just don't get anything that's going on and all of the sudden it clicks with them," explained Nguyen.
What's Next?
Nguyen will attend UND in the fall semester and hopes to have one, or two internships before she graduates from UND. Nguyen hopes to get an internship in D.C. with the help of Kelly Boyer, her mentor from the Mentor Program through the Pancratz Center.
One of her biggest interests would be to intern in a congressional office. Otherwise, she would also be interested in interning for the department of education, somewhere in economics, or maybe with a non-profit. For students like Michelle, UND offers many scholarship opportunities, as well as internships and events to take part in.