Student Spotlight: Desiree Robinson
Desiree Robinson
Major:

Human Resource Management

Minor:

Leadership

Involvement:

Resident Assistant on Campus, Hall Government, SHRM executive Team Member/Secretary.

Fun Fact:

Bonded with Best Buy's Vice President of Human Resources over cats this past summer.
Last spring UND alumni, Shannah Henk, came back to her alma mater to recruit UND students to work at Best Buy. Henk, who graduated from UND in summer of 2017 now has the title: Training Lead, Onboarding & Talent Development at Best Buy Corporate Headquarters.
During Henk's time at UND, she was a graduate assistant in the Pancratz Career Development Center, so it was only natural for her to circle back to help UND students find jobs.
Desiree Robinson, a UND student majoring in Human Resource Management with a minor in leadership, saw that there was an opportunity to meet with Henk and signed herself up. Robinson scored herself an internship at Best Buy for the summer of 2018 after meeting with Henk.
"She was amazing to meet with," said Robison with a beaming smile.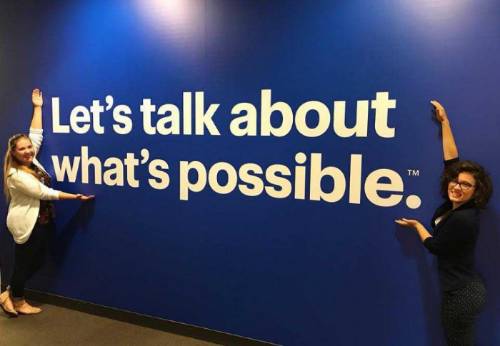 Best Buy
Robinson had the opportunity to be on the HR team at the Best Buy corporate office. She had duties over the summer such as: reengineering performance apprasails, designing and editing job aids, observing meetings, editing short-term goal incentives, working with training and development, shadowing employee relations activities, and updating career development portals and sites.
Robinson's internship for Best Buy opened some new doors for her such as learning about what type of job she would like to do within HR
"I really wanted to know what I want to specialize in with HR in the future, so I asked my team if I could explore the rest of the HR department. I was able to conduct 40-plus hours of informational interviews with representatives from every aspect of HR, and it really helped me identify what I'm interested in down the road," said Robinson.
After gaining experience at Best Buy over the summer, Robinson realized that she would like to be a generalist (sometimes referred to as a HR Business Partner).
Interning for Best Buy also showed Robinson that she is interested in two areas in particular within HR.
"Training and development, I really have a passion for that and employee relations which is related to my RA job currently, I deal with a lot of conflict management," said Robinson.
One thing that Robinson enjoyed about Best Buy was that she got to meet some top level management while she was there.
"Their top management is really visible and it's really cool when you can meet them," said Robinson.
UND: Senior Status
Robinson's time at UND wraps up in mid December, but she still has some time to reflect on her time here and what she will miss the most.
"The people, and knowing that UND helped me find myself while I was here," explained Robinson.
Robinson is grateful that UND helped her find the right major that guided her to a job field that she truly enjoys.
"Every class that I've taken, even if they sound boring to other people, I have thoroughly enjoyed and I know that means that I have picked the right major," said Robinson.
With a few weeks left until Robinson's graduation date in December, she is looking toward her future in the business world. Robinson recently accepted a position at Target in the Twin Cities as an Executive Team Lead Assistant Team Manager.
Written by: Kari Strandberg