The Nistlers: Inspiring Education and Enriching Lives
With their lead gift to the University of North Dakota College of Business & Public Administration Building Campaign, Werner and Colleen Nistler have launched a new era of business education.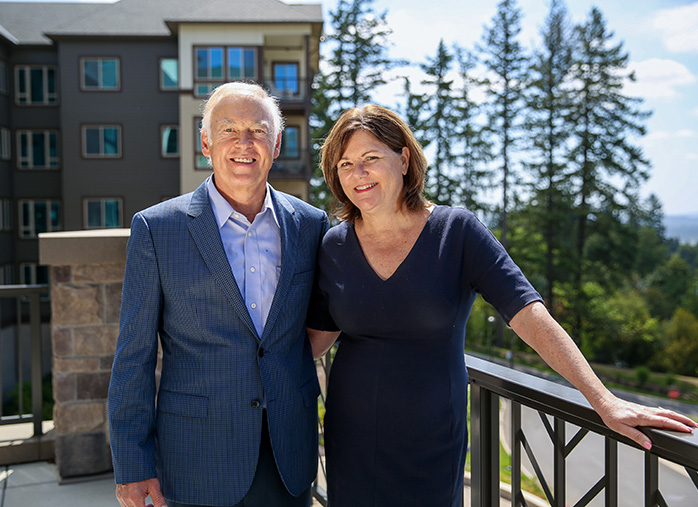 As the newly named Nistler College of Business & Public Administration, the college will strive to reflect the strong value system that the Nistlers have instilled in their business endeavors and their passion-driven lives.
Raised on a North Dakota farm with nine siblings, Werner and his brothers and sisters attended a one-room school serving all grades. He learned his work ethic from the grit it took for the family to scratch out a living between hailstorms, wind, and drought – an uncompromising upbringing that instilled perseverance.
In the fall of 1964, Werner arrived at the University of North Dakota. Because his parents valued education, they made many sacrifices to enable their son to attend UND. When their family, including eight siblings, arrived on campus, they spent the night in their car as they were not able to afford a hotel room.
Werner's work ethic continued when he began his college career. He worked full time at Smith cafeteria, played on the baseball team, was active in ROTC, and was initiated into Beta Alpha Psi. After earning a Bachelor of Science in Accountancy, Werner interned at Touche Ross accounting firm in Minneapolis prior to attending Arizona State University (ASU), where he would earn a Master of Science in Accounting.
Prior to entering the business world, Werner spent two years serving his country in the military where he operated officer clubs in both the U.S. and Korea. Werner also worked for Arthur Andersen & Co. starting in the auditing department, moving to small businesses, and finally to the tax department.
A Certified Public Accountant at the time, Werner formed the idea for Touchmark when he served as Secretary-Treasurer for Roderick Enterprises, a chain of retirement communities and nursing centers. As he traveled, he was saddened by the couples who couldn't stay together because one of them required a higher level of care. He believed there had to be a better way. Werner had an inspiring vision: to build a retirement community where couples could stay together in their remaining years and not only receive the continuum of services they need but also live a life enriched by community, hospitality, lifelong learning, and spiritual fulfillment, while remaining as active as possible.
Werner has served as the Chairman of Touchmark since he founded the company in 1980. For 35 years, he also served as CEO. Currently there are 14 Touchmark communities in the U.S. and Canada, including one in development.
Mirroring the values of the Nistlers, Touchmark's values of Excellence, Teamwork, Hospitality, Integrity, and Compassion (ETHIC) are identified as the company's building blocks to enrich people's lives.
The University of North Dakota has never been far from the hearts and minds of the Nistler family. UND is also where he met two key Touchmark team players, Tom Moe ('81; CPA) and Tom Biel ('80), who along with his brother Steve ('78; CPA) and wife Colleen, have been part of the executive team. His brother Charley ('79; CPA, now deceased) was very instrumental in Touchmark's development. Werner also founded and serves on the board of the Touchmark Foundation, a 501 (c) 3 public charity dedicated to enhancing the well-being of seniors by providing nursing scholarships for aspiring students, distributing food boxes to seniors and families in need, and funding university-based research.
Continuing the focus on enriching and empowering others, the Nistlers launched Swede Hill Vineyards in 2013, along with winemakers Matt and Nancy Vuylsteke, adjacent to Touchmark in the West Hills in Portland, Oregon. In 2017, the couple opened The Finn™ Restaurant to rave reviews near Touchmark at the The Ranch in Prescott, Arizona. Among Werner's previous enterprises are Computran, a medical records processing company that transcribed and centralized prescriptions, and Dynatran, a desktop version of the medical records business. Werner also acquired KBLG 910 AM in Billings, Montana, after it went off the air circa 1980, with the intention to create a history channel and bring radio programming into the retirement communities. He nurtured the station back to life, and it continues to operate today under ESPN. In addition, he was the Chairman of the Board of Beaverton Banking Company from 1982 - 1986 and Director of Capital Pacific Bank in Portland from 2007 - 2017.
Family is at the core of the Nistlers' ventures. Colleen, Werner's wife, business partner, and Vice Chairperson of the Touchmark Board, began her employment at Touchmark in November 1987 as the company's Controller, leading numerous accounting system developments.
She and Werner were married in 1991 and have six children. Colleen returned to Touchmark in 2012 to help oversee accounting conversions and systems. She also helped lead the efforts to form Swede Hill Vineyards and most recently Amaterra, the umbrella name for the vineyards.
Colleen graduated from Willamette University with a Bachelor of Arts in Economics and then attended Portland State University, where she completed a postbaccalaureate program in Accounting followed by completion of the CPA exam.
In 2017, Rodney Medalen, one of Werner's former UND accounting professors, nominated and presented Werner to the UND Accounting Hall of Fame. In 2018, UND Accounting Chair Katherine Campbell nominated Werner for the Entrepreneur Of The Year® Award. He received the award for Lifetime Entrepreneur in the Pacific Northwest. The award recognizes entrepreneurs who are excelling in areas such as innovation, financial performance, and personal commitment to their businesses and communities. He also was named one of four national finalists in the Entrepreneur Of The Year® 2018 Award in the Real Estate, Hospitality, and Construction category.
Throughout the Nistlers' lives, they have continued to embed the importance of integrity and values into their business philosophy and personal life. Werner attributes the success of his many innovative accomplishments to numerous others who have helped over the years:
His parents and those who were part of his early years in North Dakota
His professors at UND
Colleen and their six children
The pioneers who were instrumental in building Touchmark
CEO Marcus Breuer, the current leadership team, and all the allies, givers, and friends at Touchmark
"We want to thank Touchmark and all of the team members, residents, bankers, consultants, and vendors who have helped bring forth a company that provides great hospitality and services to seniors. We also thank our parents along with the entire Nistler family, now numbering more than 2,000 descendants of the first Nistler who traveled from Bavaria in 1841 to settle in America. We also thank God for His spiritual guidance in developing all of our successful businesses."