Student Spotlight
Bridget West
Major:

Entrepreneurship, Supply Chain Management

Minor:

Visual Arts

Internships:

UND Center of Innovation, The 701 Coworking by Evolve Grand Forks

Fun Fact:

I don't have any wisdom teeth
A Dancing Dream
UND senior, Bridget West, dreams of opening her own dance studio someday. West, who double majors in Entrepreneurship and Supply Chain Management with a minor in Visual Arts, will graduate in May of 2019 and hopes to make that dream come true. "I want to start my own business actually here in Grand Forks. I want to start a dance studio, it's going to be more like a co-working dance studio so it's with dance, performance arts, instillation art, all that kind of stuff that needs space. I also want to do a diversity part to it," said West. Over winter break, West plans to travel with her dad and sister to Winnipeg to get some insight on starting her dance studio from people that have similar businesses.
UND
West has taken advantage of many opportunities that UND has presented her with. Between two majors, a minor, and internships West is really setting herself up for a bright future. There are two main things that West is grateful to have received through UND. "I really enjoy meeting the people that are here, because they can provide you with a lot of insight, and I enjoy my classes too," said West.
Internship Opportunities
One of West's internships is at the UND Center of Innovation, where she is helping the director start a new program for business students. "I'm helping her start an Innovation Studio, which is going to be an interdisciplinary program for graduate and undergraduate students to work on problems that businesses are facing," explained West. Although the logistics are still getting worked out, the plan is to have an introductory training course and then an internship course for students to participate in. West's other internship is with the 701 Coworking by Evolve Grand Forks. Through working at the 701, West was able to speak at 1 Million Cups Fargo, and had the chance to be the Grand Forks representative at the 1 Million Cups Organizer Summit in Kansas City.1 Million Cups is an organization that helps entrepreneurs share their ideas over cups of coffee.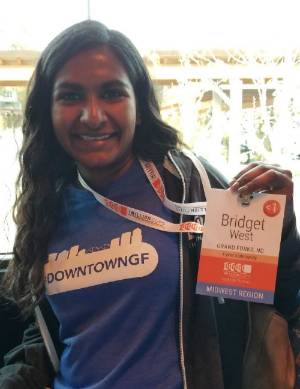 The Important Things
West grew up near Grand Forks, and admitted that the town wasn't very interesting to her until recently. "This place is actually a really cool place to be, because it's small enough that you can know people and get ahold of them but it's big enough to have the opportunity to do things," said West. When asked what the best part has been about UND for West her response was simple, "It's really the connections that I have made that are the most important to me." With graduation only one semester away for West, the excitement is starting to set in. "Oh yeah, I'm excited for it," said West with a big smile.