Leadership Beyond the Field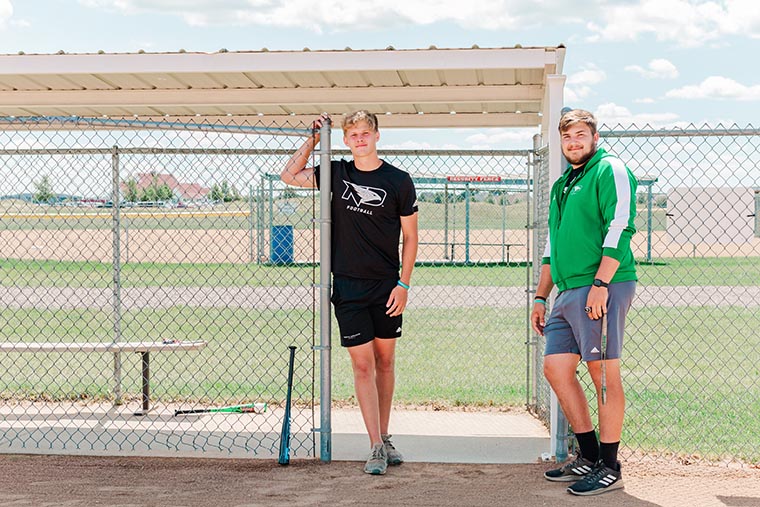 Teamwork, confidence, and a whole lot of fun, are just a few of the goals that coaches Noah Schaffner and Jagger Ferden have for their players.
Schaffner and Ferden are first time coaches for the Grand Forks Park District Youth Baseball program, but they are no strangers to the field as they both have participated in sports growing up and are currently football players for the UND Fighting Hawks Football Team.
"I came from a family of coaches so I feel like I have been around coaching my while life," says Schaffner.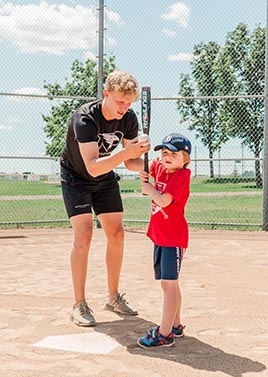 Their experience may be new as coaches but what they brought to the players was observed by many parents and attendees. "You could see how much they cared about each individual player and the positive impact they made on them as role models and athletes was tremendous," says parent of Tball player Laura Arneson.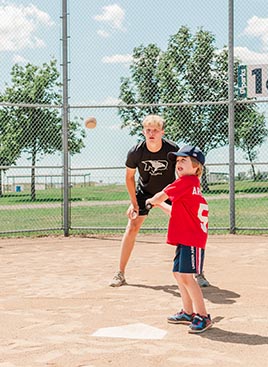 Every Tuesday & Thursday morning this summer you would see Schaffner and Ferden and all of the coaching staffing waiting with a smile as the tball baseball players came filing into Ulland ballpark with their hat, glove, and bats.
When the game was about to start you would hear the coaches call out "huddle up" to all the players who would then run quickly to assemble by their coaches with pride. The coaches greeted the players by name and their energy was contagious as the young players excitedly followed them to their field for the game.
"The kids always make me happy," says Ferden when describing his favorite part about coaching. "It is always fun to see how joyful the experience is for them and it made me excited to want to show up and coach them every day."

Being positive role models are important to Schaffner and Ferden. "I learned a lot from my head football coach in high school. He always wanted to include everyone and build confidence in his players. He taught us to be ok with leading," says Ferden.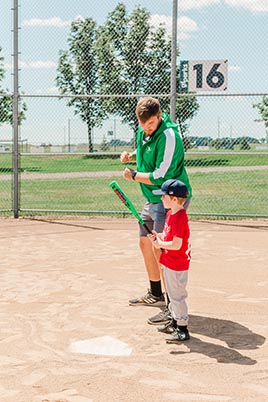 This leadership taught in athletics, and passed on to these young athletes will go far beyond the field. Schaffner is currently a sophomore at UND and majoring in Business Economics. Ferden will be a junior majoring in Banking and Finance, and Management. Their leadership experiences will continue to propel them forward into successful careers in business.
"We are so proud to have Noah and Jagger part of the Nistler College," says Dean Amy Henley. "This is exactly the type of leadership we encourage Nistler students to engage in and see how they are making a difference in the lives of these young athletes and in their community."
Being a part of the UND Fighting Hawks Football team has taught Schaffner and Ferden the importance of always representing your team positively and hard work ethic. "As an NCAA Athlete you never know who is watching so we always want to make sure we are making a positive impact," says Ferden.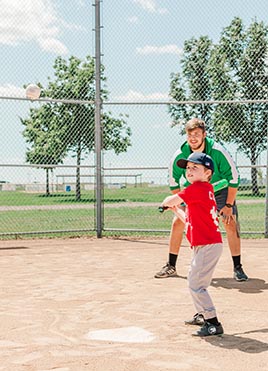 "In sports you learn how to be determined, never give up, and always strive for something more," says Ferden. "I always wanted to play for UND so receiving an offer here was a dream come true," says Schaffner.
"Our football program takes great pride in being part of the Greater Grand Forks community and understands that we are afforded opportunities to be a positive influence on young lives. It was pleasing to receive feedback that Noah Schaffner and Jagger Ferden were impacting young athletes by developing personal characteristics that will benefit these individuals throughout their lifetime. Noah and Jagger displayed awesome leadership by making a significant contribution in a positive manner to the youth of our community," says Coach Bubba Schweigert.
Schaffner and Ferden's commitment to their teams was not only impressive by truly touching to witness. "I just loved Tuesday and Thursday mornings," says Schaffner when reflecting on his season of coaching these first time baseball players.
I was once that same kid out on the field and I want to give them the same opportunity I had. I loved making a positive impact for these kids, and my goal in life is to make an impact wherever I go and see people grow

Noah Schaffner