2019 Morrison Leadership Summit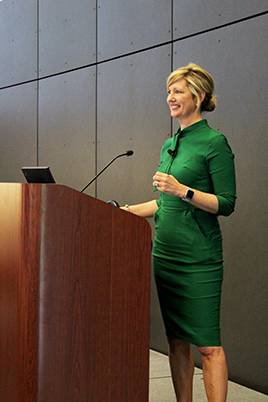 "The world needs you."
This simple yet bold phrase used by keynote speaker Angie Freeman, Chief Human Resource Officer at C.H. Robinson, set the tone for the 8th annual Morrison Leadership Summit, hosted by the Nistler College of Business and Public Administration. Established by McCain Foods in honor of UND Alumnus, Dale Morrison, North Dakota native and former CEO of McCain Foods, the summit is a day long conference suited for students who have shown excellent leadership qualities within the university. Highlighting those students, as well as offering a place to nurture and develop their skills alongside renowned leaders in the community is what Morrison intended this event to be.
This year's summit was launched with a unique CliftonStrengths session, facilitated by Kathy Lund, the Director of the Pancratz Career Development Center and Certified Gallup CliftonStrengths Coach. Students had the special opportunity to dive deep into their strengths and participate in energetic discussions on how they can apply them in their career, school, and life. Shortly following a brief networking break, the audience welcomed Nistler CoBPA Dean Amy Henley to the stage to say a few remarks. Dale Morrison followed suit.
Morrison, an acclaimed alumnus from the Nistler CoBPA and exceptional innovator in the international food industry, shared inspirational insight on the importance of leadership in a group setting. Without solid leadership in the workplace, a team can fall apart.
"Leadership is like the secret sauce, it is an important component," Dale Morrison said.
Morrison finished with a few more words of wisdom, then introduced Angie Freeman to continue the conversation. She then elaborated more on the topic of healthy and prosperous influence.
Referring back to the strengths session, Freeman articulated that "leadership is knowing yourself; [strengths] are becoming important in the human age."
Freeman went on to express that in order to utilize your strengths within a leadership role, you need to have a high EQ, emotional intelligence. Power skills, is what she called some of these traits.
"Employers want adaptability, communication, positive outlooks, empathy, analytical thinking, and emotional self-awareness."
Freeman wrapped up her talk with some words of encouragement. Embracing agility, staying curious, and investing in relationships are some pieces of practical advice Freeman gave the audience.
After Freeman's speech and another short networking break, students were invited to engage in round table discussions with various leaders within the community. Those present included Matt Dnulevy, President and CEO of Skyscopes, Emily Holth, founder and owner of Sustainable Solution Services LLC, Andrea Edward, Senior Planner with the City of Grand Forks, Macy Francisco, Marketing Manager with BIO Girls, Tom Astrup, President and CEO of American Crystal Sugar Coompany, Sarah Prout, Associative Vice President of Engagement for the UND Alumni Association and Foundation, Paul Anderson, Owner and President of Sterling Carpet One, Brittany Caillier, Manager of Philanthropy at Altru Health Foundation, Christina Sambor, Owner of Sambor Law & Consulting, Jill Cholewa, retired owner of S. & J. Lumber, Inc. in Madera, California. Students had the opportunity to network with these leaders, as well as ask questions and engage in lively conversations.
As the summit came to an end, students were reminded again by Freeman's proposition. Carrying this idea with them as they head back to class, work, and life, students can be confident that:
"The world needs you--to listen, to learn, to lead."