2022 Morrison Leadership Summit
On September 27th, 2022, the Nistler College of Business and Public Administration hosted the 10th annual Morrison Leadership Summit, sponsored by UND alumnus Dale Morrison.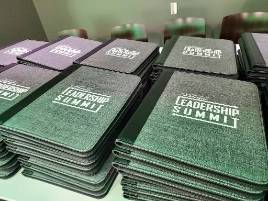 This was a landmark event since it was the first time the event was hosted in person since 2019 and the first big event to take place in the newly constructed Nistler Hall.
The event started with a Student Session called "Energy and Mindset of a Leader" lead by Sarah Newgard. Newgard energized the students by making them get out of their comfort zones and challenge their way of thinking about leadership. The purpose of this session was to help students realize what the mindset of a leader looks like and get them energized for the exciting day ahead of them.
Students were then lead to the Barry Auditorium for a lunch and discussion about leadership with their respective table leaders. Following the lunch, students were able to listen to a discussion about leadership between Keynote Speaker Greg Page and Dean Amy Henley. Page is a UND alumnus and retired Chairman and CEO of Cargill. He has also held many other leadership positions over his impressive career.
After this great discussion and Q&A session, students were able to have more in depth conversations about leadership at their tables with various community leaders who donated their time in order to participate in this event. Table leaders included Sarah Newgard, Haley Rosaasen, Phil Gisi, Remington Zacher, Tyler Eiken, Spencer Halvorson, Amy Whitney, Joan Mangino, Nancy Hanson, Kim Woods, and Kathy Lund.
Overall, students enjoyed the opportunity to make connections with great leaders in the community. Thank you once again to all table leaders and everyone who made this day possible!