Experiencing the Magic with Industry Leaders

When stepping into the Celebration Complex in Walt Disney World Orlando this spring semester for a marketing internship, Jordan Balvitsch was entering a new role, but a very familiar place.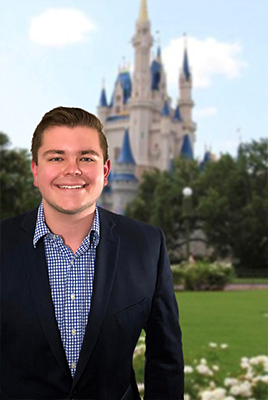 Originally from Kenmare, ND, Jordan Balvitsch started visiting Disney World at the early age of 4, later becoming a season pass holder even living 2,000 miles away. Now Balvitsch is not visiting Disney as a guest, but as a Sales and Marketing Support Coordinator. Balvitsch's new title falls under Disney's Professional Internship Program, and is a spot coveted by many.
With 1300 applicants for this internship, Balvitsch's combination of education, enthusiasm, and experiences secured him a spot in this highly competitive professional internship program.
Beginning his first internship the day after high school graduation, Balvitsch has had excellent preparation for this world-class experience, previously completing eight internships including the North Dakota State Fair, AT&T, Verizon Wireless, ND Small Business Development Center, and an event internship for the state of North Dakota.
Now Balvitsch is taking part in a new adventure that allows him to work side-by-side with leaders in the industry with legendary brands on a global scale.
Just one month into the job, Balvitsch already feels comfortable. "It just feels like home," says Balvitsch.
In his role, Balvitsch has the opportunity to work primarily on the sales and marketing team overseeing functions for the post arrival market, domestic marketing strategy team, new campaign launches, among many other exciting initiatives. "I am excited that I get to work on things that matter and see the impact each day," says Balvitsch.
In addition to the vast range of projects, Balvitsch is also provided countless networking/mentoring opportunities each week. "Interns are encouraged to take part in meet and greets with executives and VP's; they really want you to grow," said Balvitsch.
When involved in meetings and strategy sessions, Balvitsch says he really doesn't feel like an intern and is encouraged to share his opinion. Through the core curriculum provided at the Nistler CoBPA, Balvitsch says that he is able to apply the foundational knowledge he has learned in his economics and accounting courses which has allowed him to pull insights into meetings, even on legal matters. He says it validates that, "I do know what I am talking about."
Currently Balvitsch is pursuing a BBA in Marketing, BA in Economics, BA in Strategic Communications and a minor in Graphic Design and Statistics. With this rigorous coursework, his ambitious goals will pay off with a unique combination of skills that will be very marketable to employers.
"I wouldn't be able to do what I have been doing if I had went to a different college," said Balvitsch. Balvitsch also credits his support system of "cheerleaders in GF" who continue to support him from afar. To stay on track for graduation, Balvitsch is working full-time, as well as keeping a rigorous academic schedule by taking 15 credits online this semester.
Following the completion of his internship in June, Balvitsch will return back to campus for the fall semester, with the goal to return to Disney and secure a full-time employment offer.
During his remaining time at Disney, Balvitsch hopes to make a lot of great connections and find the right fit for him at the company for the future. "I really want to work here," Balvitsch said with excitement. In the meantime, Balvitsch is enjoying every minute of the professional experience, and exploring the Disney theme parks and all of the magic inside.
-By Laura Arneson