Interning to Make an Impact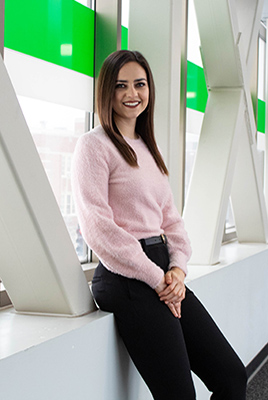 Experiential learning is an important piece of education for students to exercise as they ready themselves for life outside of the classroom.
As students search for careers that combine their knowledge, skills, and passion, internships serve as a great segway from the classroom to the job market. Internships allow students to apply the knowledge they have learned in the classroom while gaining valuable lessons in a safe and flexible work environment.
Professional Development
The Pancratz Career Development Center (PCDC) is a great resource for University of North Dakota Nistler College of Business & Public Administration (UND Nistler CoBPA) students to search and prepare for internship opportunities. The PCDC provides assistance with resumes, creating and/or building a LinkedIn profile, preparation for career fairs, testing for strengths, and mock interviews. The PCDC also offers a professional closet, where professional attire is donated for students to take and keep for interviews and jobs. Additionally, the PCDC is home to the Mentor Program, a program where students are matched with professionals to assist them in finding a career. InterviewStream technology is also available via the PCDC for students to record and review practice interviews on a webcam so they can physically see where their interview skills need improvement.
UND Nistler CoBPA students have landed prestigious internship opportunities at companies such as Disney, Microsoft, United Healthcare, FDIC, Starkey Hearing Technologies, C.H. Robinson, and more. UND Nistler CoBPA students go above and beyond their classroom requirements to ready themselves for successful careers.
"The goal is for our students to combine their knowledge, passions, and interests into a set of skills that will help them land the internships or careers that they dream of. Internships enable students to apply what they're learning in the classroom to situations and experiences in the professional world. Students also gain in-depth knowledge about an industry and a potential employer, build professional networks, and obtain experience that sets them apart when applying for full-time jobs," said Director of the PCDC, Kathy Lund.
A Lasting Impact
UND Nistler CoBPA Department of Marketing student, Sophia Priem has a passion for marketing and aspires to pursue a career in the healthcare industry. "I like having an influence and being somewhere where you're helping people live healthier lifestyles and doing something that's more beneficial to their lives," said Priem who has recently accepted a marketing internship at United Healthcare for the summer of 2019. Priem, a senior from Chanhassen, Minnesota, holds many titles at UND, one of those being Social Media Marketing Intern for the UND Nistler CoBPA.
"Interning at the UND Nistler CoBPA is unique from any other internship experience. I have been lucky enough to get to know various faculty members, attend special events, and even connect with alumni. On top of all that, I've learned how to create a social media strategy, manage and monitor four platforms, as well as utilize analytics to create content suitable for different audiences," said Priem, who also serves as the VP of Community Involvement for DECA and the Director of E-Commerce for Delta Gamma.
While interning at United Healthcare, Priem said she looks forward to meeting other people with similar career interests."I'm excited to have more structure and to be able to network and meet other marketing professionals there, even those in different areas of marketing," explained Priem.
Students like Priem who take the initiative to participate in experiential learning activities demonstrate the drive UND Nistler CoBPA students have to make themselves marketable to potential employers. Looking to the future, Priem will graduate in December of 2019 with internships under her belt and skills that will make her a solid candidate when applying to jobs postgraduation.