Accounting For Quality
The UND Master of Accountancy Program provides a great return on investment.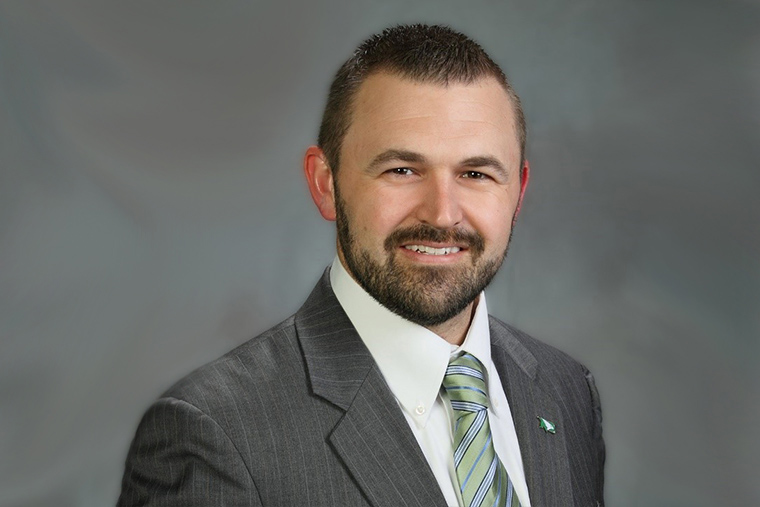 There's no accounting for where a UND Master of Accountancy (MAcc) degree can take you. Just ask Senior Director of Development at the UND Alumni Association & Foundation, Jonathan Gehrke. In his current position, Jonathan focuses on building alumni relationships and fundraising opportunities for the John D. Odegard School of Aerospace Sciences. As an undergraduate Aviation Management alumnus, he is poised to navigate the ever-changing aerospace industry. As a MAcc alumnus, he is well prepared to take on the fiscal responsibilities of his career.
Formerly, Gehrke was the Program Manager of Enterprise Projects & Business Development for Cirrus Aircraft in Duluth, Minnesota. As part of his role, he was involved in the certification of the SF50 Vision Jet, which has earned top recognition as a Collier Trophy recipient in the aviation industry. Prior to that, Gehrke gained his footing in the accounting field by working as a Senior Associate for Brady, Martz & Associates.
"I firmly believe that the MAcc Program at UND contributed directly to the path that I've been lucky enough to take," said Gehrke.
"Along with an exceptional graduate education, I was well-prepared to sit for the CPA exam. Becoming a CPA is one of the best decisions anyone can make professionally. Even if you never intend to pursue a lifelong career in public accounting, the credibility of your work in any field is elevated because of what it takes to achieve that certification."
During his time in the MAcc program, Gehrke not only became academically prepared thanks to rigorous accounting coursework, but he also was able to network with accounting alumni and gain professional skills through experiential learning opportunities and curriculum developments.
"The connection that the UND Department of Accountancy and Information Systems has to industry is simply remarkable. Faculty and students are always getting opportunities to hear about how emerging policy is being handled in industry. You cannot underestimate the value that real-world connection brings to the material being taught in the classroom," said Gehrke.
These real-word connections laid a valuable foundation for Gehrke's current career, where he manages corporate relationships and contributes to the financial health and vibrancy of the John D. Odegard School of Aerospace Sciences. Gehrke's personal experiences at UND fuel him in his mission to connect other passionate alums with the university for future giving opportunities.
In his opinion, UND's MAcc Program is top notch. "The course offerings are rich, the faculty are focused on the students, and the opportunities provided in the way of internships and experiences for students are truly first-class!"
Gehrke highly recommends the MAcc degree due to the industry connections, superior curriculum, and quality faculty.
"After you complete the degree, sure, you'll be well-prepared for a job and you'll pass the CPA exam, but perhaps most importantly you will end your time in the MAcc program having developed a list of mentors and advocates that will be there for you at any time in your career," said Gehrke.
"I know I'm thankful for mine."
Learn more about the UND MAcc Program.
- By Kate Menzies