Recipe for Success
UND's MBA program sees spike in online enrollment after curriculum overhaul and expanded marketing efforts.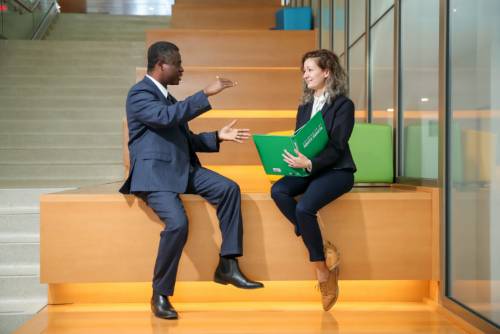 Boosting online enrollment in the Master of Business Administration (MBA) Program by 60 percent over the last two years was a matter of finding the right recipe.
Curriculum revisions, national rankings, and marketing are the ingredients that set the Nistler College of Business & Public Administration's (Nistler CoBPA) MBA program apart.
As with any good recipe, the key is quality ingredients. The MBA program places value on quality coursework and rigorous curriculum in order to attract some of the best and brightest students across the country.
U.S. News & World Report's online MBA rankings consistently place UND in the top 50 programs out of hundreds of institutions playing the rankings game. In addition, Poets & Quants ranked the program 27th for 2019.
The Nistler CoBPA's Director of Graduate Programs, Michelle Garske, recently sat with UND Today to highlight some of the factors that have made the program ever more attractive in the online space.
Major Revisions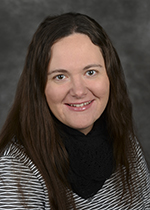 Fall of 2017 marked a turning point in the MBA's structure. One shift the program made was to reduce prerequisite barriers to entry.
"We found through looking at all of our peer and competitive groups that we were far above where we should be," Garske said of prerequisites for UND's program. "So we took an extensive review of the curriculum in relation to what students need to have for foundational knowledge."
"Through all of these changes, the thing I'm most proud of is that we haven't decreased our admissions requirements," she continued. "You often hear programs talk about doubling their enrollment in three years, but when you look into it, often times they dropped the standardized test requirement or lowered their GPA requirement. We've maintained our quality and rigor, which is important in delivering the best graduates."
At the behest of various stakeholders, the program was encouraged to enhance the degree with different focus areas. To accomplish this, the program added courses to the core curriculum that could give students the skills and tools they need to stand out in the marketplace. The core curriculum now comprises four modules (executive management, business analytics, financial & economic analysis, and strategy) so students can easily anticipate course outcomes.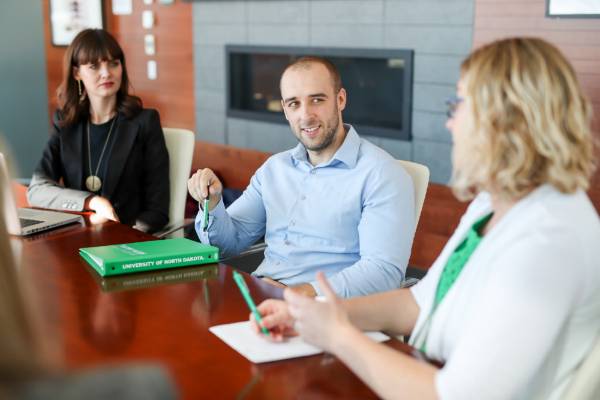 Patrick Schultz, director of the MBA program and professor of management, says the program seeks to increase access to electives and varying concentrations. Though online MBA enrollment has an external scope, UND's combination of business and public administration in one college creates an opportunity to shop a business and government concentration, for instance. Garske adds that there's already a campus-based joint program with the law school, and next year an aerospace concentration is expected to debut.
Changes in admission and degree requirements may reduce barriers to entry, but they don't affect the standards by which students are accepted. In fact, UND's MBA program has accepted its highest-qualified classes during this period of enrollment growth. Graduate Management Admission Test scores are higher and so are the GPA scores of incoming students.
Right Reach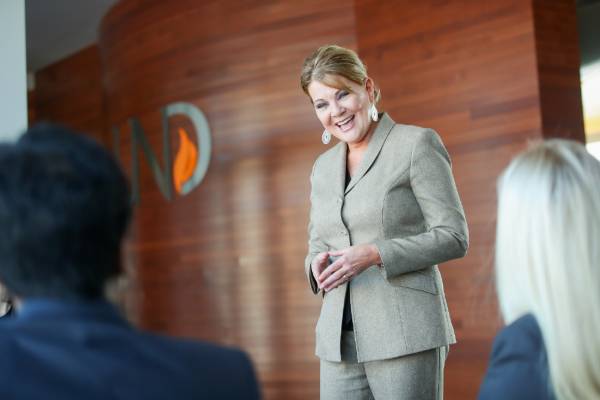 A significant bump in online enrollment can also be attributed to an increase in marketing efforts. Garske highlighted what's been a year and a half-long process of focusing on geo-markets showing more interest in pursuing an MBA online.
"We want to increase enrollment, but we also want to increase the diversity of our applicants," she said. Specifically, they've worked to keep UND top-of-mind on military bases and areas outside of the region.
The structure of course delivery also sets UND apart, in some respects. Many online programs, graduate or otherwise, are delivered asynchronously – students work through a system like Blackboard, watch lectures, and are not afforded as many opportunities to interact live with their faculty or classmates in the program.
Synchronous delivery is something Garske's office perceives to be a competitive advantage for the program. With this delivery mode, online and campus students attend class at the same time, wherever they are. This allows students to network with their professor and peers for a more engaging, interactive learning experience. Surveys among graduating students and alumni continuously show program delivery to be a selling point of the program.
"In my class, the diversity of interests and backgrounds that all of our students bring to our discussions create a very enjoyable learning environment," said Dr. Schultz. "Our faculty have considerable experience in creating an engaging environment for both campus and online students, and we have worked hard to use new technologies for creating live, interactive classroom experiences for all students."
In addition to digital marketing efforts, the program has been working to plant the seed early with younger professionals, such as on-campus students pursuing degrees that could be harmonious with an MBA, like engineers and pilots. This has been done through classroom visits, career fairs, open houses, and other recruitment events.
Foundation of Quality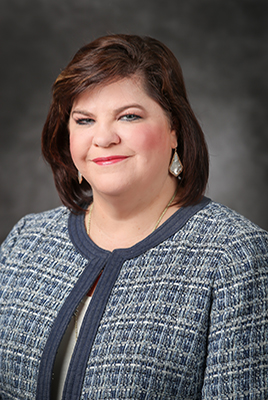 Dean Amy Henley, whose previous position was executive director of MBA programs at Kennesaw State University, sees the market for MBA programs as increasingly competitive, particularly online.
"But when you deliver an exceptional, unique program, that quality is always going to rise to the top," she said.
With the potential for adding more asynchronous components to MBA courses and expanding the reach of partnerships, Henley looks to build upon the reputation of high quality course delivery and recruitment. As far as brand awareness, the Nistler CoBPA already has the foundation.
"Hopefully further opportunities can allow us to be even more successful in what we're already doing well, but open even more doors for students," she said.