Alumni Spotlight: Dara Morehouse
Dara Morehouse's understanding of supply and demand started at a young age in Glasgow, Montana.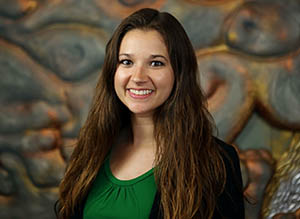 "My family owns a sporting goods store, D&G Sports and Western, so I've been around business my whole life, I learned the basics at a youngage," said Morehouse.
In addition to helping out her family business, Morehouse lived and breathed hockey. She spent weekend after weekend on the road for tournaments.
"When I was a sophomore in high school I had a hockey tournament in Mayville," said Morehouse. "I had a few friends who went to UND so they showed me around campus and I just fell in love. I knew I loved hockey so I was like, well there's hockey there, I can play intramurals, I can watch hockey, and they have a great economics program."
So she went.
Five-and-a-half years and one UND hockey championship later, Morehouse landed not only a B.A. in economics, but also a Master of Science in Applied Economics.
While pursuing her MSAE degree at UND, a program which can also be done online and is ranked 24th in the nation by U.S. News & World Report, Morehouse had the opportunity to develop expertise in a specific applied research domain.
"It made me stand out," said Morehouse.
For Morehouse, that expertise was data analytics – which is how she landed not only a UND degree, but a career as well.
In 2015, Morehouse took a job as a data analyst in UND's University Analytics and Planning office. Now she works as a financial analyst in UND's Resource Planning and Allocation office, teaches introductory economics classes at the UND Nistler CoBPA, and does research. Some of Morehouse's research projects include an extension of her thesis, how different types of employment affect fertility rates; as well as population projections in North Dakota. At her current job, she analyzes data to see what best suits the University with the new MIRA budgeting model.
"From the data I can determine things like should they open another class? How many student credit hours are they likely to teach next semester or year? That type of thing. So it's kind of helping them project what is in store for them in upcoming semesters," said Morehouse.
Though she never expected pursuing her passion for hockey would lead her to not only to college, but her professional career – Morehouse knows one thing for sure – she's glad she ended up at UND.