Employment Survey Results
The Nistler College of Business and Public Administration is very proud of our graduates. Many former students are doing valuable things for our society while working in exciting places.
Hiring Trends & Salary Projections for Business School Graduates
MBA Salaries
MBA salary premium holds at the pre-pandemic levels: The median MBA salary for 2021 is projected to recover to its pre-pandemic 2020 levels. At $115,000, the median salary of MBA graduates is 77 percent more than those with a bachelor's degree ($65,000) and 53 percent higher as compared to those hired directly from industry ($75,000). This salary premium could help an MBA graduate earn US $3 million more than someone only holding a bachelor's degree.
*source: GMAC Corporate Recruiters Survey
Demand for Business School Graduates in the Next Five Years, 2020-21
202
30% Increase
62% Stable
30% Increase
2021
37% Increase
55% Stable
8% Decease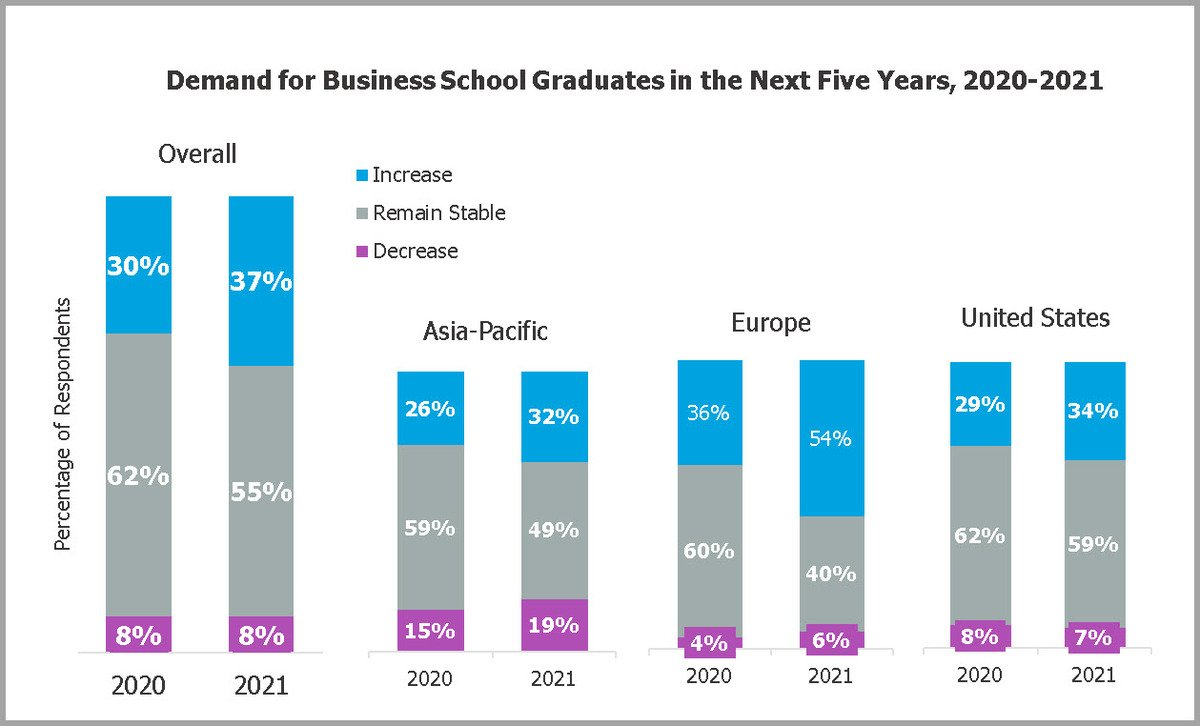 MBA Employment Survey Results
In the spring of 2018, the Nistler College of Business and Public Administration assembled an Employment Survey of MBA Alumni in an effort to gather information about the post-graduation experiences of MBA students. Below is a snapshot of the results.
UND MBA Graduates Top 7 Occupational Categories
37% Information Technology
24% Finance
18% Accounting
17% Marketing/Sales
17% Operations/Logistics
7% Consulting
4% Human Resources
Alumni participants are from 2009-2017.
Salary Ranges for 2016-2017 MBA Graduates
$0-50,000: 16%
$50-70,000: 40%
$70-100,000: 28%
$100,000+: 16%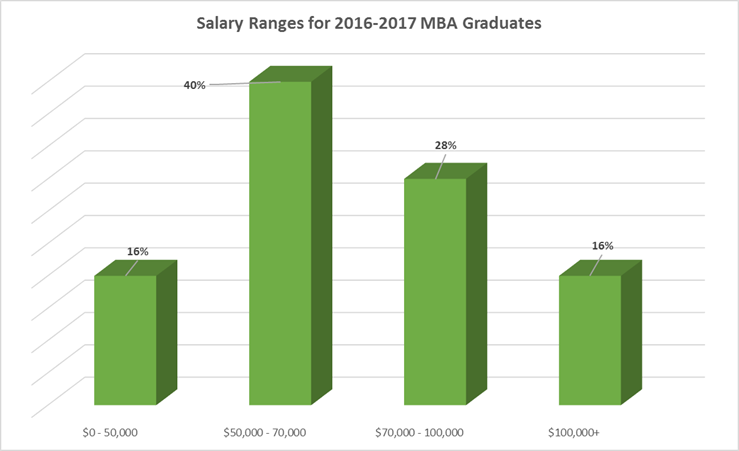 Employers of Recent UND Business Graduates
Amazon
Best Buy
Deloitte
FDIC
Microsoft
PepsiCo
Pricewaterhouse Coopers
Target Corporation
UnitedHealth Group
US Air Force
US Bank
Wells Fargo Bank