Business Administration (M.B.A.)
The UND M.B.A. program holds AACSB accreditation and a No. 35 ranking from the U.S. News & World Report, which affirm the program's high standards and faculty qualifications. In addition, this program is unique in that it provides an interactive learning experience for students through synchronous course delivery and small class sizes.
M.B.A. Delivery Options
On-campus + Online = Endless Possibilities
All courses are offered in a hybrid format. Each class has a group of local students, attending on-site at UND, and also has distance students who enter the classroom remotely from any location. This technology allows synchronous (real-time) delivery of the program to students in any location, as long as they have access to the required equipment.
All students (whether receiving instruction on-site or online) are required to attend the "live" class. To accommodate working professionals, almost all M.B.A. courses are offered in the evening (7-10 p.m. CST).
Top Ranked M.B.A. Program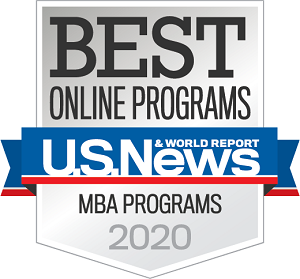 The M.B.A. program is honored to receive top rankings by The Princeton Review, US News & World Report, and Poets & Quants.
2020 U.S. News & World Report Best Online MBA Program (#35)
2020 Poets & Quants Top Online MBA Program (#14)
2015 Top 50 Online Affordable MBA Degree Programs Top Management Degrees (#1)
2015 Princeton Review Top 25 Online MBA (#13)
AACSB International Accredited