MBA Student Spotlight
With MBA students coming from wide-ranging experiences, diversified walks of life, and far-reaching geographies, our program thrives on the talent and perspective that each individual brings to the classroom.
Abigail Olker
Mechanical Engineer at Loram Maintenance of Way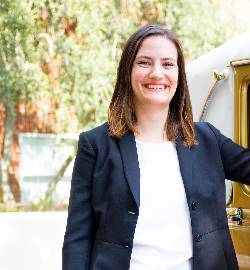 Bachelor of Science in Mechanical Engineering, Minor in Spanish-Georgia Institute of Technology
"I work for a railroad maintenance company that creates machines that repair the railroad. My current position supports our machines that are already out operating in the field. I do this by making updates to parts and running tests to analyze solutions to problems. I chose UND because it's a great school at a great price. My time at UND has been extremely positive. The classes are great while working full time and I really enjoy the combination of in-class and online student classrooms because it's a much more interactive setting. My UND MBA will benefit me in the future because it will help me develop the skills I need in order to succeed in my future career path. I've learned so much already and know that what I learn will help me throughout the rest of my career."
Ben Williams
Senior Engineer at WFW Engineers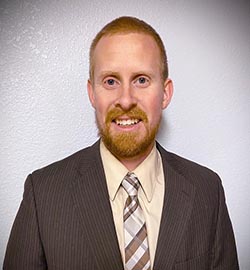 Bachelor of Science in Civil Engineering-University of North Dakota.
"The UND MBA program offered the flexibility I needed to still be able to work. Being able to attend a local college with a program that was built for the working professional at a price that is affordable was exactly what I was looking for. The classes I have attended have challenged the way I think about management and have provided practical ways I can improve how I work and interact with my colleagues. The professors have been outstanding: they are very knowledgeable in their fields and have been able to communicate in ways that encourage learning and critical thinking. As a working professional, I have already seen the benefits of the MBA program. I have been able to take what I have learned in class at night and apply it to work the very next day.
Katy Motsinger
Community Resource Director at Children's Attention Home
Bachelor of Arts in Strategic Communication & Public Policy-University of Denver
"As part of my job, I oversee all of the fundraising, marketing, and community engagement efforts for the Home. I work with a team with three (Volunteer Coordinator, Outreach Coordinator, Community Resource Assistant) to engage our community with the Home's mission to provide a safe and nurturing home for abused and neglected children. I had been looking for an affordable program that connected the business and public administration schools, allowing for integrated learning between the two disciplines. When I was unable to find this program locally where I could attend class in person, I began searching for online options that provided an engaging class environment and UND's live online classes have been a great fit. I have enjoyed my classes tremendously so far and it's rewarding to see what I'm learning in class apply directly to my work day to day. I have enjoyed the interaction with my classmates, the professionalism and culture the professors create in the hybrid class environments, and the convenience of the online program. I believe UND's program crossover between business and public administration will give me the foundation across disciplines to more effectively tackle and find solutions to social problems we face today."