Alumni Spotlight: Jared Bickler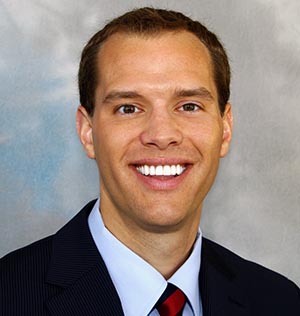 Jared Bickler has always kept his future front of mind.
While pursuing his Bachelor of Accountancy and Master of Business Administration degrees simultaneously at the University of North Dakota, Bickler decided to take advice from his professors and begin to build his professional network early.
"They made it very clear to us: You're here to go to school, but more importantly you're here for the next phase of your life and setting up and building your career," said Bickler.
During his second year of school, Bickler began to actively attend UND career fairs, on-campus events and various professional presentations. He often stuck around afterwards to network.
"After a while you start to see a lot of the same faces and you start to build those relationships," said Bickler.
His junior year, Bickler signed up for a mock interview at the UND Department of Accountancy and Information Systems annual career fair that would forever shape his life.
"I signed up thinking it doesn't hurt to build those skills or at least brush up that skillset," said Bickler. "I ended up making a really great connection with the person from Deloitte who was interviewing me," he added.
That small connection led to something big.
"It got me in for an interview for an internship at Deloitte earlier than they typically would have interviewed a candidate," said Bickler.
More than a year in advance, Bickler accepted an internship at the Big Four accounting firm. After the internship, he landed a full-time job in their audit practice.
13-years later, Bicker still works at Deloitte's Minneapolis office, but with a different title.
"This last fall I was promoted to partner at Deloitte," said Bickler. "I was very excited to get there! It increases the expectations and the responsibilities, so that's where my focus is now."
Another part of Bickler's responsibilities: heading up recruiting for Deloitte at UND.
"That's one of my favorite parts of my job! I love North Dakota, I love UND, and I get to give back a by helping out with the recruiting function," said Bickler. "Just continuing to build that strong pipeline between what's a very, very strong accounting program and great candidates (students) that come out of there to Deloitte Minneapolis."
For Bickler, that pipeline has came full circle as it will for many UND Department of Accountancy and Information Systems students in the future.