MAcc Student & Alumni Spotlights
Testimonials
Laura Pflucker, Online Master of Accountancy Alumna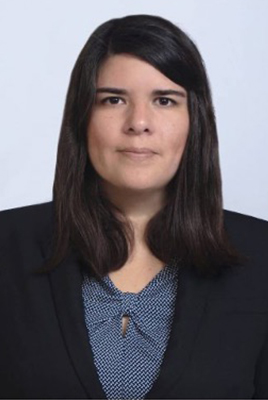 A wife and mother of two who grew up in Peru, Laura explored several career and entrepreneurial opportunities before deciding to change careers and pursue her Master of Accountancy degree online with UND. Just a month after graduating in the Summer 2021 term, Laura was hired as an associate by Pricewaterhouse Coopers (PwC) and is currently preparing to take the CPA exam in Florida. She met the PwC recruiter in one of UND's virtual recruiting events.
"While I was pregnant with my second son, I created a two-year career plan: to pursue a master's in accountancy in order to become a CPA before the end of 2021. And University of North Dakota was the right place to do it since they offer a program for people who did not major in accounting for their undergraduate degree, just like me. There are many factors that encouraged me to choose UND. Convenience, because as a mother of a newborn, an online part-time program allows me to work and eat from my home and with the time I have. Also flexibility, because even though there are weekly deadlines, these are still flexible. You can decide when you want to do it during the week. Prestige, of course, as I learn more about the University of North Dakota during my process of selecting a school, I learned about its prestige in the accounting world… Also, that your CPA pass rate is high."
Tell us about your experience in our online MAcc program.
"I am so grateful to UND. It has given me so much. My voice is heard and my ability to learn is the school's priority. I was not necessarily expecting this, to tell you the truth. I had taken a few online classes while doing my undergrad degree, and it was mainly the students who had to do everything… It is not that I am outdated. I have a few friends that have also done master's recently, and none of them have stories like mine."
Gina Casciani, Online Master of Accountancy Student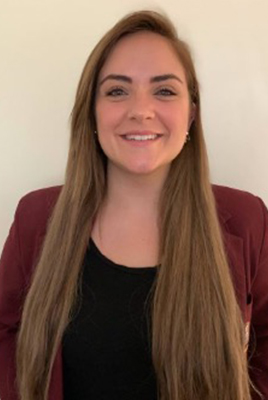 Gina earned a bachelor's degree in finance with minors in insurance, marketing and advertising. She currently works in the insurance industry in Georgia, but has dreams of opening her own bakery one day and being able to run the business from top to bottom, including accounting.
What advice do you have for students who are new to the accounting field?
"Don't be nervous. You truly don't need any accounting knowledge or background to come into UND program. You learn a lot of the basics in the first two courses, so it's very important that you really grasp and understand what you learn in those two. Those prepare you with the fundamentals like balance sheets, income statements, and things like that, which are the base for everything else you'll learn in the program. Additionally, you don't have to be a math whiz to be good at accounting. I'm decent at math, but I was nervous at first because it had been so long since I'd taken a math class, and I associated accounting with heavy math, but most of this is basic math, not calculus or something like that."
Dexter Kendall, Online Master of Accountancy Alumnus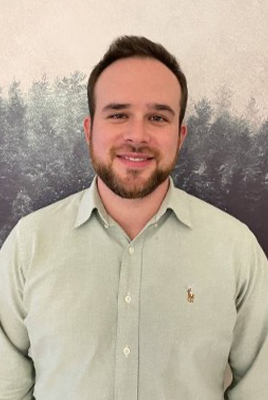 A Navy veteran in Washington state who worked as an electrical engineer for 7 years after leaving the military, Dexter decided being an engineer wasn't the career he wanted.
How did you become interested in accounting?
"I became interested in accounting because it has become very data driven. I love working with and manipulating data, and I've also always been interested in finance. I figured that the modern accountant would have to have a combination of data analytics skills, as well as the traditional accounting skills. So, that's what really interested me."
What attracted you to UND's online Master of Accountancy program?
"I was attracted to UND's online Master of Accountancy program mainly due to its flexibility (online format), its cost relative to other schools, and the fact that it is AACSB accredited. Those three things were what I really focused on when looking for schools."
The MAcc Takes Flight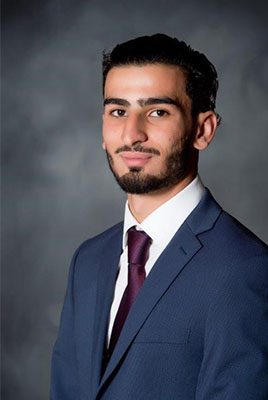 As an international student from Libya, Sofian Tegazi first arrived at UND on a scholarship to pursue aviation management. But after taking Accounting 200, his career goals started to change.
Prior to the class, Tegazi had been told by other students that the course was very difficult. Tegazi got into the class and aced it. That is when Mrs. Lawson-Body told him he should really think about a career in accounting. "After visiting with Mrs. Lawson-Body and learning about the future opportunities I decided to switch to accounting," says Tegazi. "She really influenced me, and gave me the advice I needed."
For the year and a half that followed, Tegazi did his research. He spoke with Dr. Mathew Notbohm, Associate Professor of Accountancy and Master of Accountancy (MAcc) Program Director, and Graduate Program Advisor Kate Menzies, to find out about the opportunities available in the combined MAcc program and the Accelerated Bachelors/Masters of Accountancy program. He learned that he could gain the 150 credits he needed to sit for the CPA exam and leave UND with a Master's Degree in Accountancy with just one year after completing his Bachelor of Accountancy requirements. "I looked at it from the perspective as an international student, that working in a private or public sector, a master's degree from the U.S. will give me an edge and stand out in the crowd," says Tegazi.
"A Master Degree in Accountancy is becoming the national standard in this profession," says Dr. Matthew Notbohm.
Tegazi also recognized that by pursuing the Accelerated Bachelor/Master of Accountancy program many of the courses in the undergrad/graduate program were similar so he would only have to take them once and save time. Another aspect of the program that was intriguing to Tegazi was the concentration options, specifically in data analytics. "Every company I talk to wants people who know about data analytics," says Tegazi.
"The UND Master of Accountancy is designed to bring a broad set of skills beyond just traditional accounting knowledge," says Notbohm. Notbohm also emphasized that the courses in the MAcc program are designed to prepare students to pass the CPA exam.
While on campus Tegazi is also engaged in numerous leadership opportunities by currently serving as the chapter treasurer for Beta Alpha Psi and the Vice President of Block Chain UND. "Block chain is a technology that will change everything," says Tegazi. As part of Block Chain UND, students learn about the technology of block chain and how to use it in practice. This student organization provides opportunities to engage with guest speakers and to participate in blockchain competitions.
After graduation the sky's the limit for Tegazi. "I would like to work in the field of accounting for a few years, with the Big 4," says Tegazi. "My long term goal is to own my own business, I grew up with a very entrepreneurial mindset."
Tegazi had the opportunity to travel and live in many countries. He is excited to see where life will take him and adapt to life changes. He is fascinated by business and finds that business has no boundaries so he will be equipped with the tools to take flight wherever his career my lead him after the completion of the MAcc program.
"The MAcc Program is a great opportunity for students to excel or learn about things trending down the road, especially with data analytics," says Tegazi. "UND is one of the best schools when it comes to accounting and these new opportunities will continue to keep us on top."
Jing Jang
Jing Jang arrived at UND to pursue her Master in Public Administration degree, and found a passion for accountancy.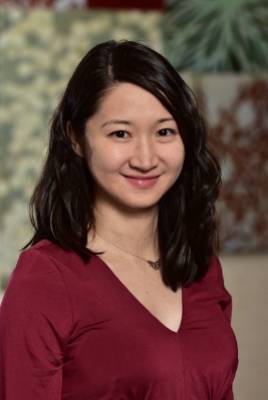 When Jing Jang came to the University of North Dakota she left with a whole lot more than she bargained for. Born and raised in Guangzhou, China, Jang attended Sun Yat-Sen University studying public administration. Jang was interested in pursuing an advanced degree and knew she wanted to study in the United States, so she applied for a few different programs in the U.S.
The University of North Dakota was an excellent option for her since her husband, boyfriend at the time, was attending UND for a degree in atmospheric sciences. Jang also had the opportunity to talk the professors at UND about a teaching assistant position, which was very appealing to her.
Jang came to UND to pursue the Master of Public Administration (MPA) degree but left with both her MPA degree and an unexpected Master in Accountancy (MAcc) degree to top it off. For Jang this was an unexpected addition as she did not have a background in accounting or any previous coursework in this area. Jang took Accounting 200 as a pre-requisite for the MPA program and instantly found her passion for accounting.
Former Department of Accountancy and Information Systems Chair, Dr. Steve Carlson, instructed the class and quickly became her informal mentor. "Coming from a non-accounting background, I was anxious about the timeline required for the degree and foundation I needed for the coursework. I'm grateful that the department chair and program director helped me tailor the program to my needs to allow me to graduate within 2 years," said Jing.
"When I was learning about the MAcc program my main goal was to get a job in accounting, and I knew pursuing the MAcc would get me there," said Jang. Jang also indicated that the classes in the program prepared her well for the CPA exam, and provided her with critical thinking and problem solving skills that have helped her throughout her career at Deloitte.
Jang was first introduced to Deloitte through the Premier Student Program. This program, hosted by Deloitte, provides high quality students with opportunities to learn about the firm, speak with current Deloitte employees, and network with working professionals. Jang was interested in this program as it allowed her to stay on track with her graduation timelines without having to take time off to complete an internship.
Through the support of the faculty at UND, Jang was grateful to learn that one of the professors had mentioned her to a recruiter, which helped open the door for conversation at a recruiting event, ultimately resulting in a job offer after the completion of the program.
After graduating in 2011, Jang began her career as a tax professional in the Minneapolis office of Deloitte. "My passion has always been in tax, it's more black and white," says Jang.
Currently Jang works as a Tax Manager for Deloitte specializing in expatriation taxation, tax planning, and the global mobility program. "One of the most interesting parts of my job is that I get to work with colleagues around the globe, and this ties to my background," says Jang.
When Jang's husband was relocated for his job, Jang was able to negotiate with her employer to work remotely, traveling back to her main office as needed. "Flexibility is a must, for the firm, as they want to retain their talent," says Jang.
Through Deloitte's flexible remote work arrangement, Jang is able to balance work and being a mother of two children. "It's a challenge, but the firm has flexible hours that are offered to all full-time working moms," says Jang.
Jang found a good work life balance by working with her coach to reduce her workload down to 80% after her maternity leave. "I was struggling balancing my role as mother and my role at the firm," says Jang. After talking with her coach at the firm they developed a reduced work schedule to help me find a better balance. Jang is appreciative that the firm provides these options to working moms as the workload can be very demanding.
Reflecting back on her time at UND, Jang states, "What really impressed me about the MAcc program is not only how well the classes prepared me, but also the close relationships the program has with top recruiters," says Jang. "That close relationship is what helps the firms come back every year to UND with a strong recruiting team of alumni."
For incoming MAcc students Jang offers a piece of advice, "Take advantage of the networking events available on campus and learn what the firms are offering," says Jang. "All of the faculty in the program are very hands-on and welcoming," says Jang. Jang also expressed that the soft skills she gained by working as a teaching assistant were very helpful in her career, and it was also during the MAcc program that Jang learned about the importance of passing on her knowledge to others.
Jang came to UND with a goal to gain an advanced degree in the United States, but she left with so much more. "I entered the MAcc program thinking I would finish all the mandatory courses to sit for the CPA exam and get on with my life. But it has rewarded me with a life-shaping experience, technical knowledge, marketable skill set and lifelong mentorship," said Jing.