Alumni Features
The Pancratz Career Development Center is proud to work with Nistler College of Business and Public Administration alumni. Nistler College alums are leaders in every kind of business and industry worldwide. Our graduates build and lead companies, serve on boards of directors, conduct international business, work in public administration roles, and contribute time to their communities. Below are a few of our notable alumni.
Morgan Hill, '09, '11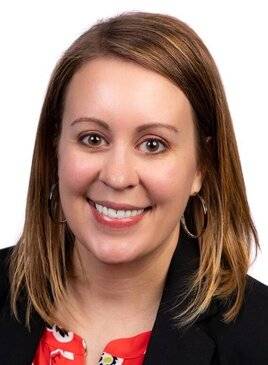 Director of Business Investment, GREATER MSP
"I received my Marketing and Management degree with a minor in German while at the University of North Dakota. I later went back to pursue my MBA. From instructors to peers, the people I met throughout my time at UND were some of the best and brightest. They taught me to think differently, approach creatively and appreciate the value that others bring to teamwork, collaboration and problem solving.
I currently serve as Director of Business Investment at GREATER MSP, the Minneapolis-St. Paul Regional Economic Development Partnership, where I am responsible for executing and managing prospecting activities and promotion of the Minneapolis-St. Paul region, on a national and international scale, alongside the organization's Business Investment team and regional stakeholders.
Some of my favorite memories are the late nights and early mornings spent studying and preparing with my peers. They served as my sounding board, my support system and my source of laughter when things got stressful. My advice to current NCoBPA students is to get involved and get connected! So many aspects of my career have been possible because of the people I surround myself with. A strong network will introduce you to professional growth opportunities, incredible knowledge, valuable insight, and great friendships."
Stephen Grazier, '18
Staff Accountant, Pohlad Companies
"While at UND, I received a double major in Management and Accounting. Some of my favorite memories at UND, of which there are many, would have to be all the time I spent in the UND Accounting office with other students and professors. Whether we were panicking about the next exam or just talking endlessly about some random topic, I made a lot of great memories and friends there.
I think being involved in extracurricular activities such as Beta Alpha Psi and the Accounting Club helped in developing my social acumen. Working in any professional setting is mostly about communication with your team; the more you can practice these skills in school the better off you will be when you begin your career. Additionally, these groups also gave me an opportunity to take advantage of an already amazing network of UND Accounting Alumni, many of whom I stay in touch with today.
My advice to students would be to use their courses to develop their ability to "learn how to learn." When you start your career, no one expects you to hit the ground running because of your coursework in college. However, they do expect that you have the skills to learn new concepts that you may be unfamiliar with. I can almost guarantee whatever job you take after college you will have a lot to learn; the learning doesn't stop at graduation."
Alison Haag, '19
Carrier Account Manager, C.H. Robinson
"I am currently a Carrier Account Manager at C.H. Robinson. My career with CH began in May 2019 when I started my summer internship as a Carrier Sales Intern. At the end of my internship I received a full time offer and decided to come back after graduation in December 2019; I have been with CH since. I started out as an Associate Carrier Sales Representative in an on-the-job training environment and in July of 2019 I was promoted to a Carrier Representative. After setting both short- and long-term goals and through lots of learning and development, I was promoted to my current role, Carrier Account Manager in April 2021.
I tried to stay busy during my time at UND. I was the President of Phi Beta Lambda (PBL) for two years and a member for four. I had internships during the school year and two internships over the summers. I became involved with the Pancratz Center early in my college career. I started meeting with Kathy to do mock interviews and tried to attend all the events they hosted. I was able to meet C.H. Robinson's Chief Human Resource Officer and UND alumna Angie Freeman at an event thrown by the Pancratz Center. Without Kathy and her staff's help, I would not be where I am today.
If I could give advice to current NCoBPA students, I would say two things. First, take advantage of every opportunity UND has to offer you, whether it is joining a club, intramurals, visiting the Pancratz center; you never know what opportunity and connection it can lead to. Second, work hard and be yourself; any professor, interviewer, or manager will see that, and you will end up wherever you are meant to be. I was faced with lots of challenges, failures, successes, and rewards during my time at UND and I believe all of those taught me important lessons I apply every day in my professional career."