Pancratz Center Freeman Professional Closet
The Pancratz Center Freeman Professional Closet is available for all Nistler CoBPA students
Our professional closet provides all Nistler CoBPA students with professional and business casual attire at no-cost. Students are able to keep clothing items in the closet to use for career fairs, interviews, networking events, internships, and more! We are always accepting donations to keep our inventory new and up-to-date for students.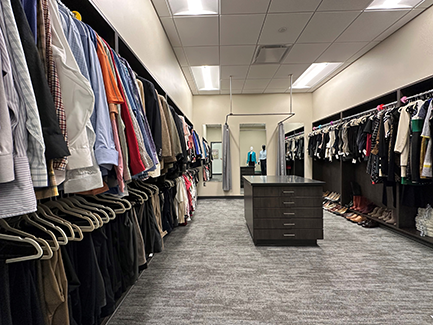 How it Works
Nistler College of Business & Public Administration students are allowed to keep two items and one accessory each semester at no cost. We encourage students to visit the closet each semester to find professional attire to wear for networking events, interviews, internships and jobs, career fairs, and more.
Donations
We are so appreciative of all our generous donors! Donations are welcome during our normal business hours and can be dropped off at the Pancratz Career Development Center in the Nistler CoBPA. If you are able, please let us know when you will be in ahead of time. If you are unable to find a time to drop off your donation, we can work to arrange a pickup time as well. If you do not have clothing to donate, you can make a monetary donation. Thank you for your continued support!