Pancratz Mentor Program
The Pancratz Mentor Program provides the opportunity for Nistler CoBPA alumni to mentor current UND students.
Mentees (Students)
The Pancratz Mentor Program is an opportunity for students to connect through formal mentorship with an experienced professional. Students will have the ability to develop their skill set, seek advice, and begin to build a professional network. We have created this program to offer a valuable educational experience for Nistler College of Business & Public Administration students.
The Pancratz Mentor Program has transitioned to a cohort-based model. This model allows opportunity for a more structured and meaningful mentorship relationship, and provides students the opportunity to network with each other and their mentors.
Applications for the 2023-2024 cohort are currently closed.
Student Eligibility Requirements
In order to participate in the Pancratz Mentor Program, students must:
Be an enrolled student in the Nistler College of Business & Public Administration
Have completed at least one full academic year (second-year student status)
Have at least one full academic year left as a student
Be dedicated to the time, energy, and commitment of a full-year mentorship
Meet with your mentor at least once per month in person, on the phone, or via Zoom
Submit an application and resume
Benefits of Mentorship
The Pancratz Mentor Program offers many benefits for participating students including:
Access to the Pancratz Center tools, resources, and network
Establishment and growth of a professional network
Opportunities to strengthen your professional communication skills
Hands-on learning opportunities
Help in defining personal and professional goals, and the strategies to achieve them
Unique insight into internship and full-time employment opportunities
Knowledge about industry trends and their impacts on your future career
Feedback on career preparation materials
Mentors (Alumni)
The Pancratz Mentor Program provides the opportunity for Nistler College of Business & Public Administration alumni to provide guidance to current Nistler CoBPA students in their sophomore year or above. Mentors volunteer their time and expertise to help students with career development goals.
Pancratz Mentor Eligibility
We are always looking to add good mentors to our program. The program is open to Nistler CoBPA alumni who will preferably have a minimum of three years in the workforce and also have:
A positive attitude and willingness to lend guidance
Enthusiasm for leadership within their field
A passion for helping students succeed
The ability to meet in-person or over the phone monthly with a mentee
Does this sound like you? Begin a conversation with a Pancratz Center staff member today to learn more about joining our Mentor Program.
Benefits of Becoming a Mentor
While the benefits to student mentees might be obvious, there are also many rewards to becoming a mentor, including:
Development of leadership and management skills
Gaining fresh perspective from future young professionals
Ability to share the knowledge you've gained and lessons you've learned
Increasing your company's profile with Nistler CoBPA students, faculty, and staff
Staying connected to Nistler CoBPA
Student Testimonials
Ian Johnson
"Dean Bachmeier has been an incredible mentor. Not only has he has helped me obtain an internship with a very reputable organization, but he also continues to share his life advice with me for the coming future. I am very grateful to hear from him and learn what he has to say. He has definitely become more than just a professional mentor."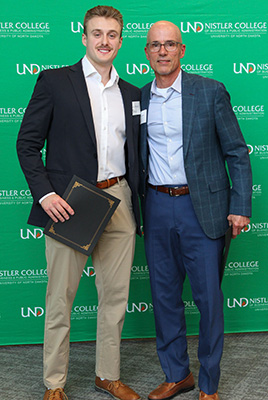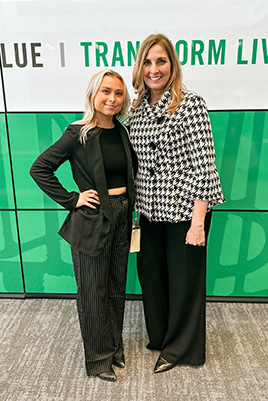 Olivia Burke
"Mary Fischer, my mentor, is an exceptional individual who exemplifies a strong sense of purpose and determination. Her unwavering focus on achieving her goals is truly inspiring. Her passion for positively impacting the world and promoting empowerment is palpable in everything she does. As my mentor, she has not only guided me in my career development but has also imparted valuable life lessons. It has been a pleasure to have someone as dynamic and dedicated as Mary Fischer mentor me, and her mentorship has been a transformative experience that has enriched my life in many ways."
Hunter Beck
"The best part of the mentorship was the fit with my mentor that I was given. My mentor was able to guide me with interview prep and resume review. He gave great advice and taught me many new things about Network Planning, Route Planning and Airline Optimization. We were communicating over many platforms to make the most of the program with plans to continue post graduation."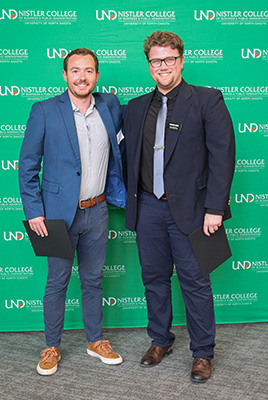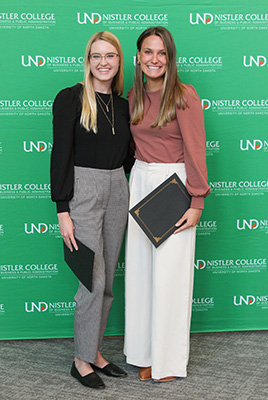 Hannah Johnson
"One of my favorite parts of the mentor program was how intentionally I was paired up with my mentor, Macy. I was very blessed to have a mentor that is in the marketing field and working for a non-profit, which is the type of business I am going to work for. Not only that but Macy and I had similar personalities and she was easy to click with! Macy is an amazing mentor because she gave incredible advice and guidance, she was honest, encouraging, and a huge supporter. I have gained so much insight and guidance into what my career could look like outside of the classroom, which is truly invaluable!"